After two days of rest between Leadership Camp and Week 8, it was refreshing to be back at Valley Forge Park and back in our element. Our morning was quiet on Tuesday, consisting mostly of hiking and talking with visitors. After lunch, the LE crew was interested in hearing about our experiences at Leadership Camp the previous week. Ben and I shared all of our stories about rock climbing, rappelling, caving, white-water rafting and much more. The Rangers filled us in on what we had missed, and it sounded like it was quite a busy week. Ranger Quinn Hackwelder responded to her first CPR call for an older man that had collapsed in front of Washington's Chapel. Revival was unsuccessful, though everything in our power had been done to help him. Later in the week while on river patrol, Ranger John Waterman and Nate Bungard found two young adults on Catfish Island with BB guns and illegal substances. They were taken to the ranger station for processing, and while at the station one of the young males inquired about the ProRanger program offered through Temple. Unfortunately for him, committing such offenses in a National Park will more than likely disqualify him from consideration. The last occurrence while we were away at camp occurred on Trooper Road near the entrance to the Betzwood pedestrian bridge. There had been a car break in that our Rangers responded to and the investigation is still underway. After sharing stories, we finished our first day back with some PT time in the gym.

With Natural Resources on Wednesday, Ben and I helped to re-mulch saplings in one of our open fields. The trees, planted by the Boy scouts, needed to be re-mulched to prevent too much aeration to the roots and discourage animals from nesting. Afterwards, we met up with summer school students from St. Gabriel's Hall to assist with the Weed Warriors program. The students come to the park on Wednesdays for two hours at a time to help us remove the invasive species, Mile-a-Minute, as part of their community service commitment. Seeing the students so enthusiastic about the animals we stumbled upon was a fun experience. In many ways, it reminded me of my luster for the outdoors when I was their age. After lunch, we went out to Valley Creek for some invasive crayfish removal before heading back to the ranger station to assist the LE Rangers with their role-playing. Ranger Duane Buck instructed Ben and I to be "bad guys," and gave us fake guns to hide on our bodies. For the role-playing, Ben and I were passengers in a high-risk vehicle stop. As "bad guys," we were to be arrested and put into the patrol car safely and systematically. After our week at Leadership Camp, we noted many of the same techniques we used in our team building challenges being utilized by LE. During the role-playing, there was one leader on the PA system instructing the felon, us, how to act. The rest of the team provided good back up cover while they waited for commands from the leader. The whole team had to communicate with the felons, and each other, in clear and concise words in order to attain the suspects safely. Witnessing the action, handcuffed and in the back of our patrol vehicles, I felt very proud of the great teamwork our LE Rangers displayed.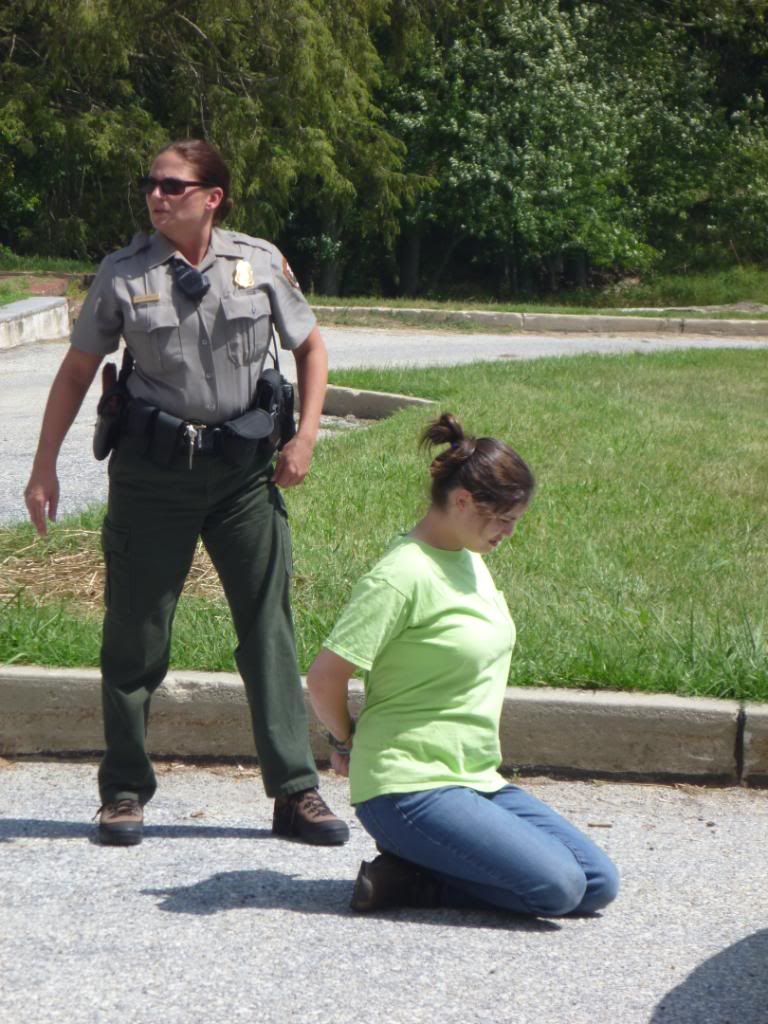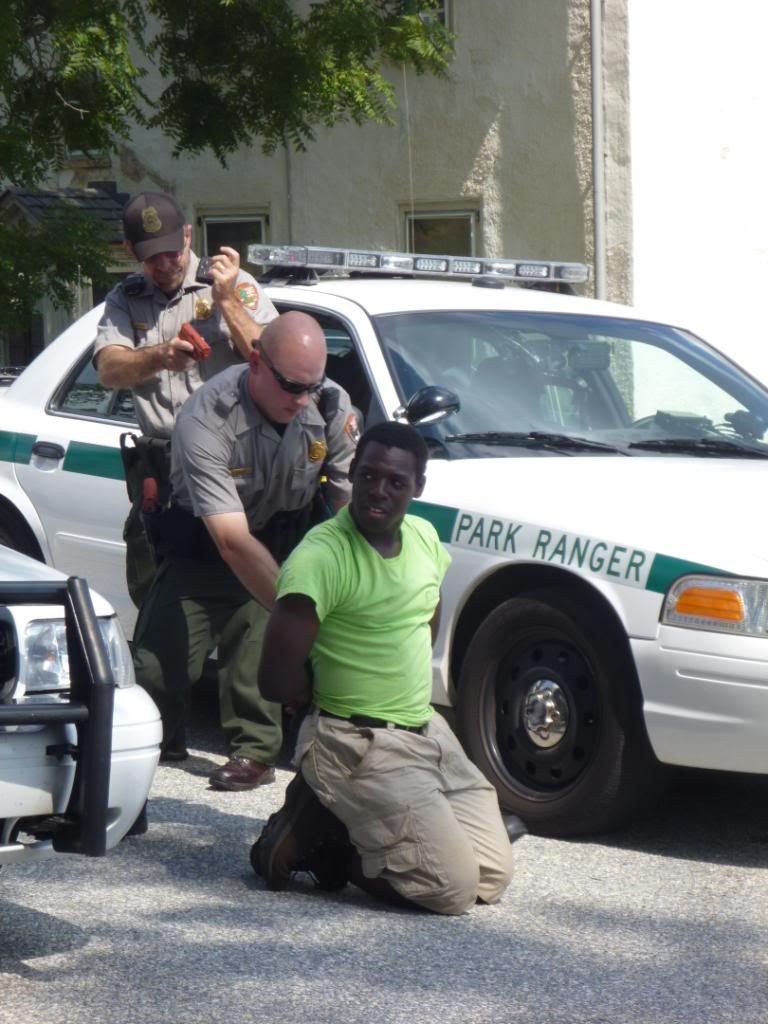 On Thursday, we started our shift at ten am, which was a nice change in pace from our previous schedule. We changed into our biking outfits and hit the most heavily used trail we have in the park, the Joseph Plumb Martin Trail. This was a great opportunity for us to become more comfortable in our role here as ProRangers because it gave us the chance to interact with many visitors, particularly those with dogs of their leash.
One of our goals for the summer as ProRangers was to make use of the canoe on the Schuylkill River. Thursday afternoon, Ranger John Waterman and Nate Bungard introduced canoeing on the river as part of the Water Safety Program here at Valley Forge. Waterman told us, as LE agents, what sort problems we should be on the lookout for while on river patrol. Life jackets must be on all watercrafts, anglers need to display their fishing license at all times and absolutely NO jet skis are allowed in the park. We practiced canoeing as Bungard and Waterman kept an eye on us from the motorboat. I, Angela, admittedly was a bit scared of being out on the river, particularly because there is a small portion of rapids that we had to row through. Ben was a good support system in helping me begin to overcome this fear. I kept thinking of every brave thing we all did over the course of our week at Leadership Camp to help me overcome my irrational fear, and in the end, we both made it through the rapids without flipping the canoe. After becoming comfortable on the water, slowly floating down the scenic river was a great way to end our workday.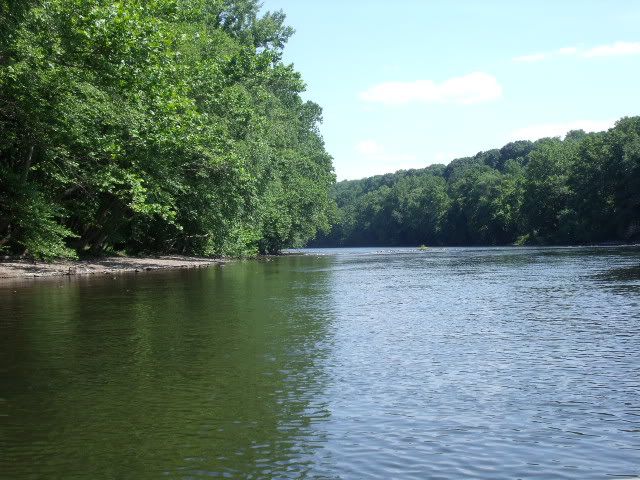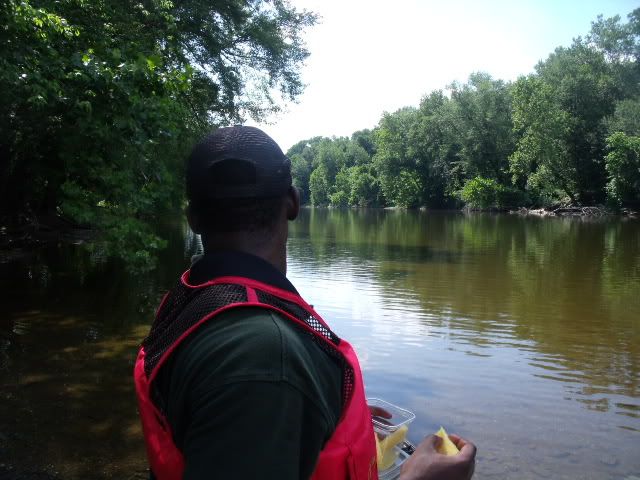 We spent all of Friday being the eyes and ears for our Rangers. First, we biked our favorite three-mile stretch of trail, the River Trail parallel to the Schuylkill. This trail is used heavily throughout the entire day and is isolated from the rest of the park, so choosing to patrol this area was strategic as well as pleasant. We were greeted by members of the Natural Resource division along the way during their session of Weed Warriors along the banks of the river. They showed us some snakes that they had found while pulling Mile-a-Minute, which was exciting for both of us. We finished our day with LE on Friday by canoeing down the river on patrol. We found two young males using a jet ski who were very apologetic once they were made aware that no jet skiing is allowed (despite there being a sign at the boat launch). Friday was a good introduction to the typical occurrences a LE Ranger at Valley Forge may encounter.
Saturdays at our park always seem to be so quiet compared to the bustling commuter traffic on weekdays. In the morning, we geared up to wash patrol cars because, despite our meticulous efforts the previous weeks, it was time for the vehicles to be cleaned again. Because of the relative quietness of the park, we took this opportunity to talk with our new field trainee, Ranger Joshua Baldwin, about his recent experiences at FLETC. We really valued what he had to say, being how he was fresh from the training program. The most important lesson I took away from our conversation is that, in both our field of work and at FLETC, one never knows what to expect. While much of the training is intense and focused on worse case scenarios, the reality is during our career we may never need to use some of these skills. The whole point is to prepare for the worst and always keep your training fresh in your mind.
Until next time,
ProRangers Ben and Angela